Seev Steinberg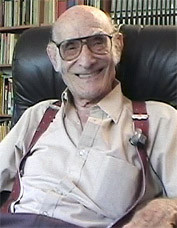 Audio/Video documentation (in German)

The violist and composer Zeev Steinberg, born 1918 in Trier, got to know Leo Kestenberg when Kestenberg assumed direction of the Palestine Orchestra (today: Israeli Symphony Orchestra) in 1938. At the time, Steinberg was studying viola with Prof. Lorand Fenyves and composition with Prof. Oedoen Partos. Both were leading members of the Palestine Symphony Orchestra, today: the Israel Philharmonic Orchestra (IPO).
In 1942, Kestenberg hired him as an orchestra substitute and, just a year later, he was appointed a full member of the orchestra.
The two came into closer contact when Steinberg attended Kestenberg's course on the aesthetics of Bach's two-part inventions, which was free of charge. During his time as General Manager, Kestenberg continued to pursue activities in music pedagogy, though not publicly. He worked with small study groups and gave his first private piano lessons.
Also among the course participants were the pianist Menachem Pressler and Ella Goldstein, who took private piano lessons with Kestenberg from the end of the 1930s to the mid-1940s.
Steinberg is a member of the management committee and the music committee of the triennial International Israeli Harp Competition, and is also a judge for many music competitions in Israel. He has performed as viola soloist with all Israeli orchestras. As a composer, mostly of chamber music, he has also written many arrangements, chiefly for strings.
He married a second time after having been widowed, and is the father of three.

| | |
| --- | --- |
| November 27, 1918   | Zeev (Wolfgang) Steinberg is born in Germany. His parents were physicians in Trier/Mosel, where he spent his first 15 years. His father had studied music (violin) at the Academy in Cologne and then medicine in Freiburg i. Br., and played chamber music all his life. Thus Steinberg hears chamber music at home from his early childhood on and starts playing the violin at the age of five   |
| March 1934 | The Nazis interrupt his music studies (and schooling) and he goes to kibbutz Ein Harod in Palestine with the Youth Aliya   |
| 1937 | After three years of agricultural work and music-making with other amateurs, he moves to Tel Aviv with his future wife, making a living as a taxi driver. He soon returns to musical studies, taking viola with Prof. Lorand Fenyves and composition with Prof. Oedoen Partos. Both were leading members of the Palestine Symphony Orchestra, today the Israel Philharmonic Orchestra (IPO) |
| October 1942 | Accepted as substitute violist at the IPO |
| October 1943 | Accepted as a full member of the IPO |
| 1943-49 | Member of the Israel Mozarteum Quartet |
| 1949-57  | Member of the Polishuk Quartet |
| Since 1952 | Teaches viola and chamber music at the Academy of Music at the Tel Aviv University until retirement |
| Since 1956 | Senior lecturer at the Academy of Music   |
| 1957-59 | Member of the Tel Aviv Quartet |
| 1959-93 | Member of the Israel String Quartet. Tours Germany, France, the USA, Italy, Japan, Australia and other countries with the ensemble, which played contemporary music, including Israeli works, in addition to the usual quartet repertory |
| 1970-85 | Assistant principal violist at the IPO |
| 1985 | Obligatory retirement. Nevertheless, he continued playing with the orchestra for nearly 10 years. The same year, he helped found the Musica Nova Group, which is dedicated to performing new works |
| Since 1990 | Serves as principal violist and advisor to the conductor in the Israel Chamber Orchestra Ramat Gan |