Ricci Horenstein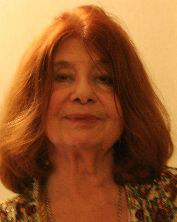 Audio/Video documentation (in German)

Ricci Horenstein found in Leo Kestenberg a teacher who fostered her through piano lessons and, beyond this, supported her career as a budding pianist and piano educator. He gave her up to five lessons per week, without asking for any remuneration.
As Kestenberg's pupil, she also gave many public concerts, with Kestenberg himself providing the introductory lectures. And she gave his youngest pupils piano lessons.
During his piano lessons, Kestenberg always went beyond the music, opening for her new horizons in philosophy, literature and the fine arts. These lessons became an inspiring adventure for Ricci, who was full of ambitious intentions vis à vis the piano, but also full of open questions. She may well have been equally inspiring for Leo Kestenberg. At any rate, he dedicated the first version of his poem on teaching, "My Piano Lesson" to Ricci Horenstein.
Today Ricci lives in London and enjoys an international reputation as a piano teacher. In her interview, she sums up her years studying with Kestenberg in spirited and trenchant recollections.









1937

Born in Vienna, where she spens her childhood and is given her first piano lessons st the age of five





She survives the war thanks to a class trip to Romania in summer 1937, from which she never returns. After years of involuntary vagabonding in Romania, she journeys by ship, cattle car and bus through Turkey, immigrating to Palestine.

1941
Arrival in Palestine
ca. 1945-50
Private piano lessons from Leo Kestenberg. After only one year, she begins public concertizing in his presence, on Radio Jerusalem and elsewhere. She also starts to give piano lessons under Kestenberg?s supervision.
1951
She goes to Paris to study piano under Lazar Levy at the Ecole Normale de la Musique and to train as a music therapist under Henriette Goldenbaum. She takes private lessons from M. Montaeigue, a specialist for neuromuscular problems in performance practice. She returns to Tel Aviv and continues to study piano under Yahli Wagmann.
1961
She goes to London, where she attends film school and shoots her first documentary film. Soon afterward, she establishes her own film production company in Spain. She returns to London, where she attends the Guildhall School of Music and Drama and resumes playing the piano. She starts to teach, founds Ricordell, a piano and horn ensemble, and gives many concerts. As a piano educator, she sees herself as a transmitter of Kestenberg?s pedagogic approach to piano, which she has further developed on the basis of new knowledge and techniques. She gives private lessons and is regularly invited to present workshops and master classes, interviews and lectures internationally, in Switzerland, Canada, and elsewhere.