Rahel Epstein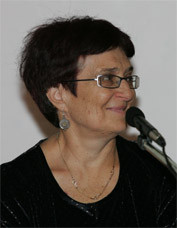 Rachel Epstein grew up in Jerusalem and Haifa. Her mother was the historian and Bergmann pupil Ruth Kestenberg-Gladstein. She got to know her grandparents, the Kestenbergs, as affectionate members of the family during many visits between Tel Aviv and Haifa.
She describes her grandfather Leo as an incorrigible social democrat and optimist who always looked ahead and who, despite his exceedingly negative experiences in anti-Semitic Nazi Germany, was not embittered. - The Kestenberg family emigrated of necessity from Berlin to Prague in 1932, and in 1938 from Prague to Palestine. - Epstein also relates that her grandfather, the son of a Jewish cantor, only seriously began to explore the spiritual roots of Judaism after coming to Israel.
Her grandmother, Grete Kestenberg (née Kussel), stood by Rachel's grandfather to the end of his days. She read to him when he was going blind, maintained his correspondence and transcribed the memoir he dictated, Bewegte Zeiten [Turbulent Times]. Only after Leo's death in 1962 did Grete's artistic personality come to the fore. She went to Haifa, where she moved into a small apartment near her daughter, parted with all the furniture from the family house in Tel Aviv, and began to act in the theatre and to write songs.
| | |
| --- | --- |
| July 22, 1945 | born in Jerusalem, Israel. Grew up in Jerusalem and Haifa |
| 1973-1979 | Research assistant, behavioral biology unit, Faculty of Medicine, Technion Institute of Technology, Haifa, Israel |
| 1979-1982 | Research assistant, neurophysiology unit, Bnei Zion Hospital, Haifa, Israel |
| 1982-1990 | Research assistant, sleep laboratory, Faculty of Medicine, Technion Institute of Technology, Haifa, Israel. |
| 1988 | B.A. Psychology, honours program |
| 1990-1994 | Research assistant, Research Center for Work Safety and Human Engineering, Technion Institute of Technology, Haifa, Israel. |
| 1994 | M.A. Special Program - Sleep and Learning, cum laude (dean's list of honours) |
| 1994 - present | Senior research assistant, Research Center for Work Safety and Human Engineering, Technion Institute of Technology, Haifa, Israel |