Menahem Pressler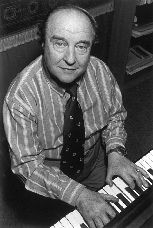 Audio/Video documentation (in German)

At the time when Kestenberg was still working as General Manager of the Palestine Symphony Orchestra, Menahem Pressler, the pianist and founder of the Beaux Arts Trio, was one of his first private pupils.
Pressler remembers his former teacher, "Professor Kestenberg", with the warmest sentiments. After Pressler won first prize at the

Debussy International Piano

Competition in San Francisco, Kestenberg offered him his own piano teacher's chair, saying that his pupil should call him "Leo" from then on.

That marked the beginning of a new collegial relationship.
Pressler and Kestenberg remained friends even after Pressler had established himself in the USA as Professor of Piano at Indiana

University.

Numerous letters testify to the fact that Kestenberg did all he could to further Pressler's career as a pianist, e.g. with international contacts and "fatherly" advice, while Pressler supported Kestenberg by seeking to enable Kestenberg's master students to continue their studies in the USA.
In honor of his outstanding teaching abilities, Menahem Pressler holds the rank of Distinguished Professor of Music (the Dean Charles H. Webb Chair) at the Indiana University Jacobs School of Music.
He has received Honorary Doctorates from the University of Nebraska-Lincoln, the North Carolina School of the Arts and the San-Francisco conservatory. His rewards also include England's Record of the Year (1997), five Grammy nominations (the last one in 2006), the Gold Medal of Merit from the National Society of Arts and Letters. In additin to his over fifty recordings with the Beaux Arts Trio, Menahem Pressler has compiled over thirty solo recordings, ranging from the works of Bach to Ben Haim. He also is the editor of the last piano sonata manuscript of Sergei Prokofiev.
Pressler's extensive tours of North America and Europe have included performances with the orchestras of New York, Chicago, Cleveland, Pittsburgh, Dallas, San Francisco, London, Paris, Brussels, Oslo, Helsinki and many others. His chamber music collaborations have also included multiple performances with the Juilliard, Emerson, Guarneri and Cleveland Quartets as well as the Israel Quartet and the Pasquier String Trio.
Website: http://www.menahempressler.org/biography.html
www.beauxartstrio.org.
| | |
| --- | --- |
| Born | 16.12.1923 in Magdeburg, Germany. |
| 1938 | Emigrated to Israel where he received most of his musical training. Emigrated to Israel where he received most of his musical training. Amongst his teachers were Eliahu Rudiakov, Robert Casadesus, Egon Petri and Leo Kestenberg who at that time also taught the pianist Alexis Weissenberg. |
| 1946 | He won the first prize at the Debussy International Piano Competition in San Francisco. Further studies in New York. |
| 1955 | Founding member and pianist of the Beaux Arts Trio. Its participation at The Berkshire Music Festival became Menahem Pressler's debut as a chamber musician and quickly established Pressler's reputation as one of the world's most revered chamber musicians. In that same year, Pressler began his association with the music school at Indiana University. |
| 1994 | He was awarded the Service Award by Chamber Music America. |
| 1998 | He received a Lifetime Achievement Award from Gramophone Magazine in London. At the same year, he was given the German Critics "Ehrenurkunde" award in recognition for 40 years of being the standard by which chamber music is measured. |
| 2000 | Pressler was inducted into the American Academy of Arts and Sciences. |
| 2003 | December 16 was declared as Menahim Pressler Day in his hometown, Bloomington, Indiana. |
| 2005 | He received the president´s Deusche Bundesverdinestkreuz (cross of merit) First Class, Germany's highest honor, and France's highest cultural honor, the Commandeur in the Order of Arts and Letters award. |
| 2007 | He became a Honorary Fellow of the Jerusalem Academy of Music and Dance in recognition of a lifetime of performance and leadership in music and received the Indiana Governor's Arts Award 2007.. |
| 20.04.2008 | The day of the Beaux Arts Trios fare well concert in San Francisko was proclaimed by the mayor in San Francisko as the Beaux Arts Trio Day. |