Jehuda Bacon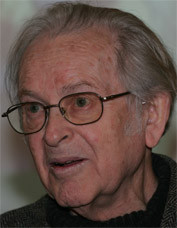 Audio/Video documentation (in German)

Jehuda Bacon, visual artist and professor emeritus of visual arts, is a Prague emigrant who arrived in Palestine at the age of sixteen. He first came in contact with Kestenberg on the recommendation of the Czech educator and humanist Premysl Pitter, Kestenberg's friend from his time in Prague. Bacon soon came to esteem Kestenberg as an older friend and as a mentor. He also developed a friendly relationship with Kestenberg's daughter, Ruth Kestenberg-Gladstein, for whose daughter Rachel he was a babysitter..
Bacon, who did not take a musical path, had from the start another perspective on the musician, music educator and music policymaker. As a friend of the family, he experienced "Prof. Kestenberg" not only among his students, as an integral member of that educational circle, but also as a fellow émigré and friend.
Kestenberg's circle of friends in Palestine included the publisher Max Brod, the historian Hugo Bergmann and the philosophers of religion Martin Buber and Gershom Sholem. As a youth in Prague, Bacon had already been introduced to this circle. Now he renewed these acquaintanceships - not least thanks to Kestenberg's daughter, Ruth.
The religious and cultural philosophical themes discussed in these circles, e.g. the spiritual roots of Judaism, would be of major significance for Bacon's subsequent artistic development.
1929           Born into an observant Jewish family of Hasidic descent in Moravian
                    Ostrau (today Ostrava, Czech Republic)
1942           Deported to Theresienstadt with his parents and one of his sisters
late 1943   Deported to Auschwitz-Birkenau
early 1945 Endures "evacuation march" to Mauthausen concentration camp and on to the camp at 
                    Gunskirchen; there liberated by American soldiers
1945           Private pupil of Prof. Willy Nowak at the Art Academy in Prague 
1946           Emigrates to Palestine
1946-51     Student of Mordechai Ardon at the Bezalel Art Academy in Jerusalem. Through a letter of
                    introduction he brings from Prague, meets Leo Kestenberg 
1951-59     Art teacher at the Brandeis School in Jerusalem, travel and study in Europe at the Central School
                    of Art in London and the Ecole des Beaux Arts in Paris
1959-94     Professor of graphics and drawing at the Central School of Art in London 1971-73 Advanced
                    study at the Pratt Institute Graphics Center in New York
1976-77     Art instructor at the University of Haifa
1994           Emeritus status; active since as a freelancer 
Numerous solo and group exhibitions in Israel, Europe, South Africa and the USA.
Works in public collections: Israel Museum, Jerusalem; Yad Vashem Museum, Jerusalem; Ministry of Culture Israel; Haifa Museum of Modern Art; Eilat Museum of Modern Art; Ein-Harod Museum of Modern Art; Cape Town University Library; The Library of Congress, Washington; the British Museum, London; Ben Uri Collection, London.
He is represented in Germany by Galerie Gnadenthal in 65597 Hünfelden