Ilana Shmueli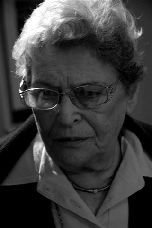 Audio/Video Documentation (in German)
Ilana Shmueli, criminologist and social work educator, author and translator, was 21 years old when she came to Kestenberg in 1945. At the time, she was taking lessons from a violinist in the Palestine Orchestra and was searching for career prospects. Their first meeting took place at Kestenberg's apartment, where he was giving a lecture series, as he had done during his time in Prague, with the appealing title, "You and I, we want to learn to hear music".
Kestenberg had just stepped down from his post as general manager of the Palastine Orchestra and was working on the founding of a music teachers' seminar, called the "Midrasha leMenchanchim leMusika". In so doing, he once again created a place where he could transmit his concepts of music pedagogy and put them into practice.
Ilana Shmueli was one of the Seminar's first students, and soon afterward found employment there as his secretary.
Beyond this, she took private piano lessons with Kestenberg. While he usually taught only highly gifted master pupils, Kestenberg had offered her this opportunity even though she had no pianistic ambitions. Ilana, whose interests at the time were pronouncedly intellectual, today in hindsight supposes that, by encouraging her to actively practice music on the piano, Kestenberg wanted her to share more intensively in the creative processes of musical works.
When Kestenberg was nearing the age of seventy, he began to train Dr. Herzl Shmueli, Ilana's husband, as his successor. In 1952 the transition was made, and Kestenberg withdrew from active participation in the Midrasha. Ilana Shmueli then pursued other paths. She studied criminology and social education, became a probation officer and worked with young homeless girls from European refugee and displaced persons camps. Today she works as an author and translator of literary works, including the poems of Paul Celan.
| | |
| --- | --- |
| March 7, 1924 | Born in Czernowitz Her father came from the province of Bukovina. He completed studies in engineering in Vienna and became an active Zionist while still a student. In World War I, he served as an imperial and royal lieutenant. He married in Vienna in 1919 and settled in Czernowitz as the owner of a furniture factory. Her mother was born in Vienna. Only German was spoken at home. In school, lessons were in Romanian. |
| 1940 | The Russians occupy Bukovina. Her father is persecuted as a Zionist and capitalist. |
| 1940?41 | Attends the Yiddish school. Here she encounters a new and rich language and literature. |
| Summer 1941 | German-Romanian occupation. The majority of the Jewish population is deported to Transnistria. Ilana's family and a few other Jewish families are allowed to remain in Czernowitz after they are able to obtain residence permits. They live in a ghetto, wear the yellow Jewish star, and their freedoms are greatly limited. |
| March 1944 | Flight via Istanbul to Palestine. Her family is able to leave Czernowitz with an organized group and takes a small Bulgarian freighter from Constanza on an illegal route to Istanbul; from there they immigrate to Palestine. |
| 1947 | Training in the "Midrasha leMenchanchim leMusika", a music teachers seminar for music education in Tel Aviv, whose founder and director is Leo Kestenberg. |
| 1947-1953 | Educational secretary at the Midrasha. |
| 1948 | War of Independence. Drafted into the military with responsibility for issues of upbringing, education and social problems |
| 1953 | Marries musicologist Dr. Herzl Shmueli, who succeeds Kestenberg as director of the Midrasha. |
| 1956 | Daughter is born. |
| until 1984 | Study of social work and criminology. She is active in these fields until 1984. |
| since 1984 | Retirement. Active as a translator and author of literary texts and publishes in literary journals and anthologies. |
| 2001 | Her husband, Prof. Dr. Herzl Shmueli, is awarded the Israel Prize. |
| March 2001 | Death of her husband. |
| Since 2002 | Now lives in Jerusalem. |
| 1999 | Publication of her book "Sag, daß Jerusalem ist". Recordings about Paul Celan, October 1969-April 1970 with translations of 27 Celan poems into Hebrew (Edition Carmel). |
| Nov. 2000 | Publication of her book "Sag, daß Jerusalem ist", in German (Isele Verlag: Eggingen). |
| Spring 2003 | Publication of her book "Sag, daß Jerusalem ist", in Italian (Quodlibet - Milano). |