Giora  Bernstein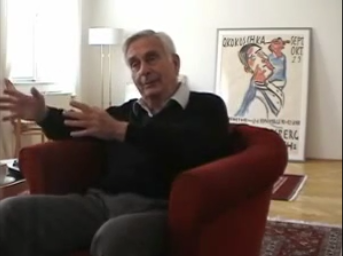 Giora Bernstein, professor of music history, conductor, founder and former director of the Colorado Music Festival, immigrated to Israel in 1939.
There he studied music from 1953 to 1955 at the Israel Music Academy in Tel Aviv which held many joint courses with the Midrasha, the music teachers' seminar founded and directed by Kestenberg. This is why he studied music history with Kestenberg.
In his interview, Bernstein sketches a lively portrait of Kestenberg as a man and a musician during the Tel Aviv period. For example, he recalls the admiration that he felt even as a young man for Kestenberg's versatility and his organizational capabilities. Bernstein also describes, however, Kestenberg's difficulties in adjusting to the new country.
In 1954, while still a student, Bernstein and his colleague Aharon Shefi founded the Givatayim Conservatory near Tel Aviv. Today, some 250 students between the ages of 6 and 18 receive music lessons there.
Awards: 10 ASCAP awards for Adventuresome Programming of Contemporary Music.
Citation from the city of Claremont, California.
Award from the city of Los Angeles (Claremont Music Festival)
Citation in the United States Congressional Record (Senate)
The Governor's Award in the Arts - Colorado; in Boulder, Colorado, August 11th was proclaimed "Giora Bernstein Day".
1933
Born in Vienna 
1938
Emigration to Palestine
since 1939




Arrived Palestine in 1939, grew up in Israel.

1953-1955
Violin student at the Tel Aviv Academy of Music
At the same time, he took courses in music history from Kestenberg at the Midrasha, the music teachers' seminar Kestenberg founded
1954
Co-founder of the Givatayim Conservatory with Aharon Shefi
1955-1957
Studies at the Juilliard School in New York (diploma)
1957-1959
Master of Fine Arts in composition, Brandeis University
1960-1967
Doctorate, Boston University
1961-1967
Music director, Boston Chamber Music Society
1963-1967
Member, Boston Symphony Orchestra
1967-1975
Professor, Pomona College, California
1968-1975
Music director, Claremont Music Festival, California
1975-1998
Professor of music, University of Colorado
1976-2000
Founder-music director of the Colorado Music Festival
1970-
Numerous conducting engagements with leading orchestras in the United States, Europe, South America, Hong Kong and Japan
2005
Co-music director, Villa Mendelssohn project in Ebensee (Austria)