Edith Kraus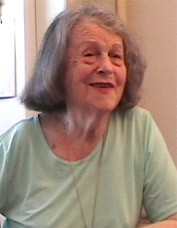 Audio/Video documentation (in German)

Edith Kraus became personally acquainted with Kestenberg in 1933, one year after his forced retirement, when he came to Prague with the first wave of immigration. There he had many friends in artistic and intellectual circles, including Max Brod and Franz Kafka. In one of the circles, he met Edith Kraus.
Kraus held Kestenberg in high esteem, and saw him as lively, intelligent and good at guiding people. Kestenberg appraised her as a highly gifted former pupil of Artur Schnabel's. They soon began to work together. They played Liszt's Concerto pathétique on Czech Radio.
She also was the pianist for the music salon that took place at Kestenberg's house. This salon was organized by Paula Seelig, a banker's wife, for the ladies of high society. While Kestenberg lectured on music history, Kraus played the musical examples. Kestenberg gave similar lectures at the Bert Brecht Club, but there played the musical illustrations himself (source: Lenka Reinerová).
On Kestenberg's piano style, Kraus says: he played very well, orchestrally, he was freer in rhythm and pedal technique and did not use much "piano". But he was somewhat out of practice during his time in Prague. Except for semi-public appearances, such as at the Bert Brecht Club, he no longer played concerts in public.
Kraus also remembers that he was immediately given an important job in the Tuscan Palace on the Hradcany, the hilltop seat of government in Prague. "Das Toskanische Palais" - and this is why Kestenberg became known around town as "Toskanini". Kestenberg devoted himself mainly to establishing the Internationale Gesellschaft für Musikerziehung (today: ISME - International Society for Music Education). Soon a central institute for music pedagogy was set up for him and he organized the Gesellschaft's first three international congresses, held in Prague, Paris and in Switzerland.
In 1938, Kestenberg immigrated with his family via Paris to Palestine. Kraus, who decided to stay, was deported only a few years later into the National Socialist "model" ghetto of Theresienstadt and began a piano career for sheer survival. After Theresienstadt was freed by the Russians in 1945 she returned to Prague and immigrated in 1949 to Israel where she soon became a member and later on a professor of piano at the Tel Aviv Music Academy. A renewed collaboration with Kestenberg did not come to pass.
Edith Kraus is internationally regarded as a specialist in Czech piano music and the works of Viktor Ullmann.
| | |
| --- | --- |
| Born 1913 | in Vienna, the daughter of Czech parents from the area near Jihlava. Her father operated a linen shop in Vienna and opened a branch in Carlsbad. From the age of six, she grows up in Carlsbad and comes into contact with music through her elder sister's piano lessons. |
| 1919 | The family moves to Karlovy Vary (Carlsbad) in Bohemia (now the Czech Republic) |
| 1920-1926 | First piano lessons at the age of seven, after Edith had been playing for two years - by ear, without any instruction - all the pieces her sister, seven years older, was studying. Edith makes quick progress and at the age of eleven plays Mozart's Piano Concerto in C-minor with the Carlsbad Orchestra. As a child prodigy, she plays for several of the great personages in the world of music, such as Alma Mahler (who wrote a recommendation letter to Artur Schnabel) and Leo Blech, conductor at the Kroll Opera in Berlin ("in my day, everyone knew who Leo Blech was"). He writes a letter of recommendation to Franz Schreker, the director of Berlin`s college of music. It states, "I believe I would do you and your school a favour by sending you this great talent." |
| 1926 | In Berlin, private pupil of Artur Schnabel, one of the most renowned teachers at the Berlin Hochschule für Musik (today: The Berlin University of the Arts); she initially receives lessons from his assistant, Alfred Schröder. Edith Kraus is thirteen years old |
| 1927 -1930 | The youngest student in Artur Schnabel's master class in piano at the Berlin Hochschule der Künste. She is befriended by Luise Wolf, who gives her tickets to the Sunday concerts, where Edith experiences Bruno Walter, Furtwängler, the young Horowitz, and others. She has by now heard of Kestenberg. He has a good reputation, but has been criticized in political circles since the mid-1920s. |
| 1930 | After completing her studies, Edith Kraus goes to Prague, where she concertizes. There she encounters a lively and interesting musical scene. |
| 1933 | Marriage to Karl Steiner. The political climate in Prague already is changing. Kestenberg is among those who arrive in the first wave of immigration, and she soon begins to work with him. |
| 1939 | As a German protectorate, Bohemia must obey the ever-stricter prohibitions affecting Jews: possessions are seized and Jews forced to vacate their apartments, forbidden to attend the theatre or cinema, and allowed on the street only at specific times. They are more and more oppressed. |
| 1942 | Deported to Theresienstadt (Terezín) with her husband |
| 1942-1945 | Until she is freed from the concentration camp, she is one of the most successful and active pianists there. "Nowhere else in the world does one go to an office on Monday and get a program for the entire week. Monday you play here, Tuesday you play there; the whole week I was busy with concerts. Naturally this helped me to get through that time, I was able to practice each day for an hour, later even two hours, if there were more pianos." This had to suffice for the preparation of daily concerts with alternating programs. She also practices without a piano, in her head, at her bed in the camp or on a bench in the courtyard. "These pieces I remember best, since they weren't learned mechanically." Friendship with the composer Viktor Ullmann (murdered 1944), who asks her to play the premiere of his Sonata No. 6. |
| 1944 | She loses her family in the so-called October transports and is left alone in Theresienstadt |
| 1945 | Theresienstadt is freed by theRussions. Return to Prague. She hopes to find members of her family alive. But soon she must acknowledge that she has forever lost her father, her husband, her sister, her sister-in-law, her mother-in-law and many other relatives and friends. She begins to play the piano again and to teach. Among other works, she plays the sonatas of Victor Ullmann.  |
| 1946 | Second marriage, her daughter is born the same year |
| 1949 | Immigrates to Israel with her second husband and her daughter. It is difficult to make a new life for herself in Israel. Her husband works in a dye factory; Edith sews neckties at first, but soon has the opportunity to play concerts and give private lessons. |
| after 1950 |  She becomes a member of the Tel Aviv Music Academy, which later becomes part of the University. As appointed professor she teaches a master class. Kraus is an exponent of the so-called "German school of piano playing". She attaches greater importance to genuine musicality and faithfulness to the work than to virtuosity. |
| after 1981 | Retirement. Edith Kraus devotes herself intensively to the music of the so-called "Theresienstadt composers", records CDs, lectures in different countries and appears in television documentaries. |
| 1994 | Stroke. Edith unfortunately can no longer play the piano. But she still teaches, for instance, in the "Music, History & Remembrance" international master courses for young musicians from Germany, the Czech Republic and Israel. Edith Kraus returns to Germany for the first time since World War II, despite a decades-long refusal, for the fourth international master course. |
|  2003 |  Master class at the University of Music and Performing Arts Vienna. Participates in eyewitness discussions at Or Chadasch, the liberal Jewish community of Vienna, and at the Institute of Arts and Sciences  |
|  2004 |  Honorary chair of the piano jury of "Verfemte Musik 2004" [Ostracized Music], the Jeunesses Musicales Mecklenburg-Vorpommern competition for instrumentalists and singers, which has taken place in Schwerin since 2001 |