Avraham Sternklar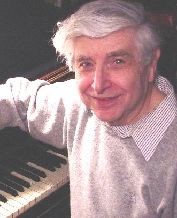 As a boy, Avraham Sternklar took piano lessons with Kestenberg.
His parents had not yet been able to set aside very much money, so they arranged a kind of barter with Kestenberg in order to finance their son's piano lessons. - His mother, the artist Tea Sternklar, became the Kestenberg family's tailor.
Sternklar fondly remembers the time with Kestenberg, to which, as he says, he owes his musical foundation.
A photo with Kestenberg's handwritten dedication is the expression of the close connection between teacher and student, which continued even after Sternklar moved to the USA.
At present, Sternklar continues his work as a composer and concert pianist, specializing in chamber music and the contemporary repertory. His compositions have been published, recorded and performed by soloists and ensembles internationally, most recently in Malaysia, Japan and Taiwan.
He teaches privately at his Plainview studio, where over the years he has been instrumental in launching the careers of hundreds of talented young musicians.
He is the recipient of many awards, including eighteen Meet the Composer awards, three "Best of the Year" awards from The Piano Quarterly and the Men of Achievement Award. His biography appears in seventeen editions of WHO IS WHO, including the international Who is Who in Music.
website: http://www.sternklar.net/avraham
October 21, 1930
Born in Trieste, Italy

March 1939
Shortly before the outbreak of WWII his family flees Italy and arrives in Palestine
1944-1949
Early musical studies with Leo Kestenberg (piano) as well as Mordecai
Seter, Odeon Partos and Paul Ben-Haim (composition). Concerts follow both as recitalist and soloist with the Israel Philharmonic and Jerusalem Symphony.
November 9, 1948
Meets Leonard Bernstein, who is truly impressed with his talent and urges him to go to the USA for advanced studies
1949-1954
Upon arrival in the USA he is awarded scholarships by the Juilliard School of Music for five consecutive years. James Friskin and Edward Steuermann (piano) and Vittorio Giannini (composition) are his teachers at Juilliard
since 1952
Piano teacher at the faculties of The Brandeis Institute of the West and of the East.
 
He frequently performed as a soloist and as a member of such prominent ensembles as The Hofstra String Quartet, The Cantilena Trio, The Bayview Chamber Players. He also performed as the piano soloist in orchestra pieces conducted by Jascha Horenstein, Seymour Rubinstein, Karel Solomon and Paul Rudoff. He often appeared in the triple role of pianist, composer and lecturer.- He performed in concerts at Carnegie Hall, Lincoln Center, The National Gallery in Washington, The Stratford Festival and elsewhere.
Ca. 1992-95
Sternklar served as Associate Professor of Piano Performance at the Aaron Copland School of Music at Queens College.
 
He was Co-Director of the Long Island Composers Alliance for six years and in that capacity played a major role in performing new music.