Aharon Shefi
---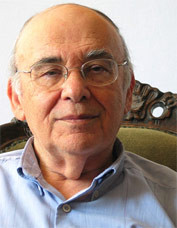 Audio/video documentation (in German)

Aharon Shefi, trumpet player, music educator, composer, studied from 1950 to 1952 at the Midrasha, the music teachers' seminar that Kestenberg had founded and directed until 1952. He took courses in music history and music aesthetics from Kestenberg.
In his interview as in his "recollections" he sketches a vivid portrait of Kestenberg, especially during the latter's last year as director of the Midrasha. He tells about his entrance examination with Kestenberg and Käthe Jacob in the cramped facilities of the Midrasha, which occupied rooms above the grammar school when it was first opened. Kestenberg's teaching style still remains alive in his memory, as does a visit from the Brazilian composer Heitor Villa-Lobos, a friend of Kestenberg's.
Under Kestenberg's motto "education to humanity with and through music", Shefi founded the Givatayim Konservatorium near Tel Aviv in 1954, together with the violinist Giora Bernstein. Under his direction, it expanded into a music school of the highest level between 1954 and 1993. Today, it educates some 250 music students between the ages of 6 and 18.

1928
Born in Jerusalem, Palestine. His family moved to Tel-Aviv.
1942
At the age of 14 he went to live in a Kibbutz, at the Jordan Valley, where he studied music theory, recorder and trumpet with Lewi Rawitz.
1946
He returned to Tel-Aviv, played in a wind ensemble and won a scholarship at the Philharmonic Orchestra; he studied with A. Hoenigsberg, its first trumpet player.
1948
he served in the Israeli Army, where he later set up the Artillery Band that merged with the Central Army Band. Shefi was its cornet and trumpet soloist.
1950
Since 1950 he played with the National Theater, Israeli Opera and Operetta Theater, and had engagements with The Israeli Philharmonic Orchestra.
1952
He began his studies at the Music Teachers Seminar under the direction of Leo Kestenberg. He studied music history and aesthetics with Kestenberg and composition with Ben-Haim, Seter and Sherrif.
Shefi became a music school teacher, youth choir and band director.
1954-1993
director of the Givatayim Conservatory of Music, founded by him and Giora Bernstein.
1963
he was sent to Liberia and the USA to form and conduct bands, orchestras and ensembles. Shefi was editor and author of Israel's Jeunesses Musicales' bimonthl